1. Fischbein Portable F
The Fischbein Model F Portable stitcher has the more simple, basic design with the lesser parts from all portable single hand  stitchers.  This makes the machine more vulnerable for failures but in addition, because the whole machine opens from the side, easy to repair. The Fischbien Portable F can handle light and medium light bags preferred made from paper of jute. The oiling system is basic and drops the oil right into the machine. Because the machine uses less parts then an Newlong Industrial NP-7A it also makes it more light weight, but less durable.
Pro:
Easy side Access
Easy to repair.
Lightweight design
Automatic cutter
Durable Motor
Popular machine
Cons:
Vulnerable for failures because of the Fragile basic design
Basic oil system. Oil can spill on the bag
High priced compared to other machines on the market.
Plastic Cam
---
2. Newlong Industrial NP-7A BEST BUY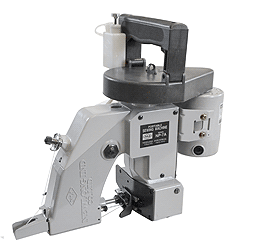 The Newlong Industrial NP-7a is the more sophisticated Single stitcher on the market. It has an all metal parts design and a comprehensive oiling system. Easy maintenance and robust design makes it the least vulnerable for failures then the other machine types on the market and low on vibrations. It is so strong that the heads are more often used in pedestal mounted systems to complete with the pedestal sewing heads. In addition it has many add-ons available. A 2-thread version is also available and is called Newlong Industrial NP-8.
Pro:
Strong Robust original  japanese design
Easy to repair.
Sophisticated Oiling system
Automatic cutter
Durable Motor (Matshushita, Japan)
Most used machine worldwide
All metal parts, steel cam
Best Price for the highest quality portable bag stitcher on the market.
Cons:
little heavier then model F
Inquire now for the NLI Newlong industrial NP-7A
---