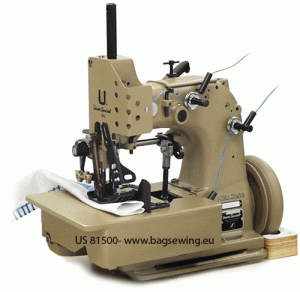 The Union Special 81500 is the ideal machine for overedging Geo Textiles, producing big bags and connecting artificial lawn (Turf).
Specifications:
Upper & Lower Feed Only
Filler Cord from Top and Bottom
Overedge (19mm is Standard, but other widths available)
Single Needle
1400RPM
for Artificial Turf
Water Bassins
FIBC Big Bags
Union Special 81500 series Models for Bag Making:
81500A Heavy-Duty 2-Thread Overedge Machine with Swinging Upper Feed en Loer Feed. Seam width of 19mm.
81500B Heavy-Duty 2-thread overedge machine with Synchronized uper and Lower Feed With Filler cord guides from top and bottom. Seam width: 19mm.
81500B2 Same as 81500B but with Pneumatic Presser Foot PRessure and Lifting (for electronic motor)
81500BA Same as 81500B except with Larger Needle (430/172 Size)
81500C Heavy Duty 3-thread overedge with Upper and Lower feeding.
Union Special 81500 series Models for instaling artificial turf installation.
81500B Heavy-Duty overedging Machine with synchronized Upper en Lower Feed for Sewing Artificial Turf.
Description:
Heavy duty single needle, two thread overedging machine  with high needle throw. With top and bottom feed for matched seams on heavy bag fabric. Standard overedge seam width 19 mm. Guide for filler cord from the top and / or below for sealing the needle punctures are available as extra order.