The Newlong DS-11 the ultimate Bag Closing Machine Excellent choice when working with Multiwall Paper Bags. This machine is simular to the Doboy D-95 sewing machine but has enhanced features such as a lubricated Oil Bath. A Special designed single needle double thread chain stitch bag closing machine head with continuous motion feeding system for integration in a heat sealing setup. Equipped with pneumatic guillotine type crepe tape cutter.
Equivelant to Doboy D95
Unique Swinging Needle system
Lubricated Oil Bath (run up to 2000 rpm)
Easy replacing of the main belt
Continues motion feeding system (upper & lower feed rollers)
Pneumatic Guilletine Crepe tape cutter
Important Notice! The DS-11 has a fixed stitch width of 10.2 mm. If you you are in need of a smaller stitch width you could go for the DS-7C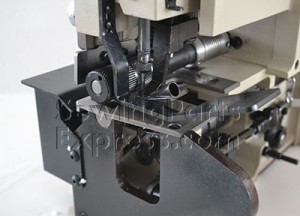 Closeup of the Feed rollers of the Newlong Industrial DS-11. Both feed rollers are actively driven. There is minimum damage to the bag.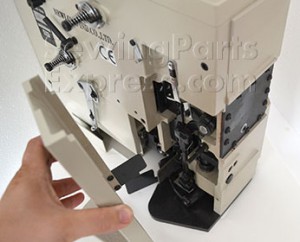 Easy access cover to thread the Looper thread of the Newlong Industrial DS-11 Sewing Machine and access the parts and maintenance of the bag closer sewing machine.
The Newlong DS-11 can be integrated in a variaty of systems. The 3 connection points on the side of the machine can act as sliders / rollers (compatible with Doboy System) or can be fixed with the screws and a special bracket to a A1-PB or simular Pedestal. An integrated oil bath makes the machine run smooth at high speed. The extra oil pump provides oiling to the parts that are not oiled via the automatic lubrication. The pneumatic Crepe tape cutter of the Newlong DS-11 cuts once per bag through crepe tape and the thread at the same time. Works well in combination with Newlong CM4900-3 power infeeder to add crepe tape.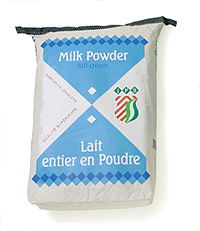 Watch the video of the Newlong DS-11 in action. In this example it is combined with a sealer system. The DS-11 is ideal for closing milk powder and other powders. in combination with crepe tape and / or hotmelt tape.
Model
Newlong Industrial DS-11
Max. Speed *
2,000rpm
Seam
Double thread chain stitch (Type 401)
Stitch Width
10.2mm (fixed)
Bag Material
Paper and  PP (polypropeline)
Thickness
Paper bag 3P with a tuck
Cutter
Automatic crepe tape cutter
Needle
DN-H29 #26
Oiling
Oil bath ・ Oil pump
Oil
Tellus #32 or Food Grade equivelant
weight
31.0kg
Related Machines
KS-1・KS-2 (Kraft Sealer), A1-PB (with optional special bracket)

*

depending on the sewing material and operation
Description
Automatic sewing needle machine specially designed to operate as an integrated part of sealing system. Features continuous motion feeding; the timed needle moves in epicyclical rotations as the bag passes through the sewing head.
Power driven feed rollers ensure accurate feeding of the bag and avoid damage to the sack, which can sometimes be caused by a feed dog. Model Newlong Industrial DS-11 is equipped with pneumatic guillotine type crepe-tape cutter.
Revolution Speed reaches Max.2000rpm. Oil-Bath and Oil-pump system. Bearing-used Revolution part for endurance. Built-in Timing Belt for Feed Roll.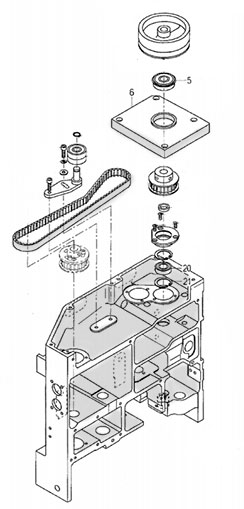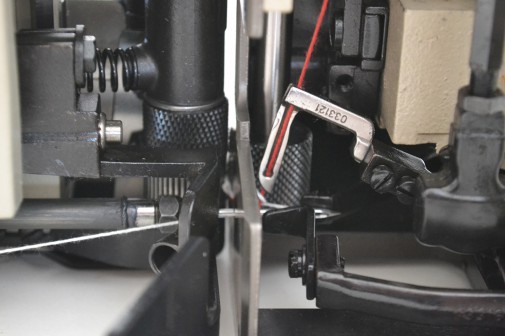 Oli Bath system in yellow. The oil pump provides the needle bar with oil.
Newlong DS-11 Example of Stitches.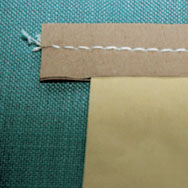 Newlong DS-11 Stitch over tape closure
Newlong DS-11 Tape over stitch heat sealed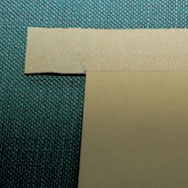 Newlong DS-11 Tape over stitch self adhesive tape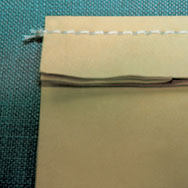 Newlong Industral bag closer that stitch over folded bag.
Features:
* Built in pneumatic guillotine type crepe type cutter.
* Full enclosed structure. All parts are enclosed & protected inside the casting housing, the machine is suitable for high dust & corrosive environment.
* 1 needle double thread chain stitch.
* Can operate together in combination as an integrated with Newlong Industrial craft sealer KS series.
* Power drive continuous roller feeding ensures an accurate feeding of the bag & avoid damage to the bag.
Shorter Stitch Length on DS-11.
The Newlong Industial DS-11 and the Newlong Industrial DS-7have a different Stitch Length. These stitch length are FIXED. This means they cannot be set bigger or smaller. The DS-7C and the DS-11 are made for crepe tape tape and hot-melt applications.
Newlong Industrial DS-7C: The stitch length is 7.7 mm.
Newlong Industrial DS-11: The stitch length is 10.2 mm.
The DS-11 is a more advanced machine with more features (an upgrade). It can run faster due to it's oil bath on some parts. Also it is easier to replace the timing belt on this machine.
However, if you are not using Crepe tape or hot melt tape, and just plain-sew the bags, the stitch width of 10.2 mm can be too large and product can fall through the holes.
There are 2 solutions to this.
Instead of the NLI DS-11 choose the NLI DS-7 for your application. The 7.7 mm is more suitable for non-crepe tape applications.

Change 1 part: Adapt the DS-11. There is 1 part 322171 Needle Bar Rocker Cam that needs to be replaced by the part 252032 from the DS-7. It decides the stitch width. This part originally comes from the DS-7 and is compatible with the DS-11. The part however is in the heart of the machine and takes time, experience and expertise to exchange and setup everything around it to work.

A Customisation on the Newlong Industrial DS-11 can be done by the factory where this adaption already has been done is available as a custom version from the factory. (extra charge for part and labor)