Union Special 81200 is the ideal machine to overedge Jute bags and Jute Material and simular. It can also be used to overedge Geo textiles and some variaties of Artifical Turf.
Overedge machine for side seams of Jute/Burlap bags
Carpet serging (2 and 3 thread)
Butt seam
Simular machine is Newlong HR-2A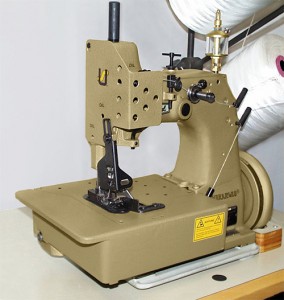 Heavy duty single needle, two thread overedging machine with high needle throw. With top and bottom feed for matched seams on heavy jute bags. Especially for overedge seaming the sides of jute bags. Standard overedging seam width 19 mm.