NP-7A Portable Bag Closer to close bags with Emmer (grain)
As Portable as you are !
The newlong NP-7a is the Portable sewing machine that fits everyones budget and is also the most robust portable sewing machine in the industry. So robust that many companies use it to built into a mini system.
The popular Newlong Industrial (NLI) NP-7A robust Economic Portable Bag Closer Machine, Single Needle, One Thread Chain Stitch, Half- Automatic Thread Cutter, with Simple Mecanism for easy Maintenance. Recommended for Materials such as Polypropylene, Multi-Wall Paper & Jute and lighter Geo Textiles.
If you would like more information or a current price quote on the newlong np-7a please contact us.

The build in continues cutting knive makes cutting, while sewing easy and handy.
The NLI Newlong NP-7A is not only the most robust Portable Sewing Machine, it is also the most affordable. Sewingpartsexpress can deliver the Newlong NP-7A and Spare parts for the Newlong NP-7a from stock!
Specifications

Integrated continues Half Automatic thread cutter
Maximum Speed: 1750 rpm 8,5 mm Stitch Length
Single thread Chain Stitch (Type 101)
Sew Jute, PP, Cotton, Paper, Multiwall Paper bags
Oil Pump: By hand
Sew up to 8 mm thick bags or material
can also be used for connecting Geo Textiles (2-Thread version: Newlong NP-3II)
Crepe Tape extension Available.
Air Motor (Pneumatic ATEX proof) Available as an option
Weight: 6 Kilogram
Technical Specifications

Model: Np-7a
Max. Speed 1750 rpm
Seam: Single thread chain stitch (Type 101)
Stitch Width: 8.5mm
Bag Material: Paper, Jut, polypropylene (PP)
Thickness: Jute bag 8mm
Cutter: Half automatic thread cutter

Needle: DN×1 #25
Oiling: by hand, via Oil pump
Oil: Machine oil #10 or Tellus #32
Weight: 6 KG'
Presserfoot lifter included
Hook (for connecting hanger) pre-installed
Crepe tape Extension optional available
Air motor (ATEX) optional available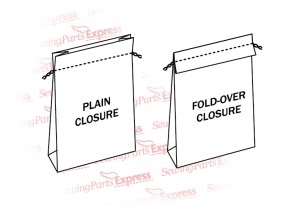 Caution: Stitch the bag synchronously with the speed of feed dog If the bag is pulled out faster than that of feed dog, it .causes mis-stitch or needle break
Newlong Industrial Sewing Machines Japan
Video: Thread the Newlong Industrial NP-7A
* Optional available for the Newlong NP-7a:
Tape binding attachment
Spring Balance and hook
Shoulder Belt and Thread Cover at extra cost.
Tape sewing attachment improves sewn bag shelf appeal, & prevents sifting of finely powder contents.

The tape attachment

can be easily removed for standard sewing applications. The tape binding attachement is available as a special order.

Optional available Spring Balancer + hook to hang the Newlong NP-7a Portable sewing machine weighless
Available motor voltages:

110 volt Newlong Np7a
220 volt Newlong Np7a
230~240 volt Newlong Np7a
12 volt Newlong Np7a
24 volt Newlong Np7a
Air motor (runs on compressed air. ideal for ATEX envoriments (certain zones) with high tendences of explosions)

This machine is equivelant to:
Thread consumption for Newlong Industrial NP-7a Stitch Type 101 (Single Thread Chain Stitch)
| | | |
| --- | --- | --- |
| 3-ply* paper bag | 5-ply* paper bag | Jute bag |
| | | |
| 40cm width and 2 x 3 cm long chain | 50 cm witdh and 2 x 5 cm long chain | 55 cm width and 2 x 3 cm long chain |
| Consumption per bag: 1.74 meter = 0.38 gram. | Consumption per bag: 2.28 meter = 0.50 gram | Consumption per bag: 2.31 meter = 0.51 gram |
| With 1kg of thread approx. 2600 bags can be closed. | With 1 kg of thread you can close approximately 2000 bags | With 1 kg of thread approximately 1950 bags can be closed. |
Ply is short for a layer of paper or wood, such as with toilet paper, tissue paper, paper towels or plywood
| | | | |
| --- | --- | --- | --- |
| # | Part Number | Brand | Item Description |
| 1 | 241024AS | Newlong | Handle Assembly |
| 2 | 241092 | Newlong | Drive Pulley |
| 3 | 241131 | Newlong | Stop Collar |
| 4 | 242011A | Newlong | Conn. Rod Assembly |
| 5 | 242051A | Newlong | Needle Bar Lever Assembly |
| 6 | 242071 | Newlong | Needle Bar Lever Stud |
| 7 | 242081 | Newlong | Adjuster Stud |
| 8 | 242101A | Newlong | Needle Bar Conn. Assembly |
| 9 | 242121A | Newlong | Needle Bar |
| 10 | 242131 | Newlong | Needle Clamp Nut |
| 11 | 242161 | Newlong | Foot Lifter Lever |
| 12 | 242172 | Newlong | Lifter Base |
| 13 | 242181 | Newlong | Presser Bar Clamp |
| 14 | 242191 | Newlong | Presser Spring |
| 15 | 242201 | Newlong | Presser Bar |
| 16 | 242222 | Newlong | Bush |
| 17 | 242231A | Newlong | Presser Foot |
| 18 | 243012 | Newlong | Looper Drive Cam |