The Newlong Ind. DD5 is a Heavy Duty, Low cost, High Performance Free Feed Sewing Machine.
Newlong Industrial (NLI) DD-5 Bag Mending Machine, Single Needle, Plain Feed,  Flat Bed, Single Thread Used to Repair and Sew Extra Heavy Materials such as Jute Bags and Polypropylene  (PP) Big Bags , Container Bags,  FIBC (Flexible Intermediate Bulk Container).
The Newlong Industrial DD-5 is excellent for :
Connecting FIBC belts and Big Bag Belts, Tie Ratchet
All safety belts either by hand or automated (in a CNC system).
Repair broken Jute bags, Repair broken FIBC bags
Looms, web slings
Creative solutions with Free Feed
Heavy Duty Drop Feed mechanism
Improved Oiling system
Ask for a free quote on the Newlong DD5. CLICK HERE
NEWLONG INDUSTRIAL DD-5 is equivalent and compatible with the  SEIKO SK-8, Seiko CK-1, CK-1s, Seiko CK2.
NEWLONG INDUSTRIAL DD-5 is interchangeable with the SINGER 132K6, 133K-18 model. All parts of the DD-5 are the same as the parts for the Seiko SK-8. Seiko SK-8 and Singer  132K, 133k have been discontinued and taken out of production.
NEWLONG INDUSTRIAL DD-5 is the excellent replacement for the Seiko SK-8  and singer 132K, 133K.
NEWLONG INDUSTRIAL DD-5 can be integrated into a CNC Sewing Machine. For a free quote, please contact us.
Technical Specifications
Model
DD-5

Max. Speed

※
1,500rpm

Seam

general sewing (301)

Stitch Width

Freedom sending

Bag Material

Jute・Container bag
Thickness
–
Cutter
–

Needle

CY×7 #28

Oiling

by hand ・ Oiler
Oil
Machine oil #10
weight
35.0 kg
Feature
Sewing head for repair of jute bag
Related Machines
TD-5、Table setting
* depending on sewing material and operation.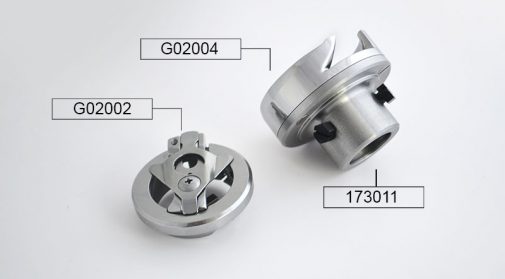 Click here for more Sewing Samples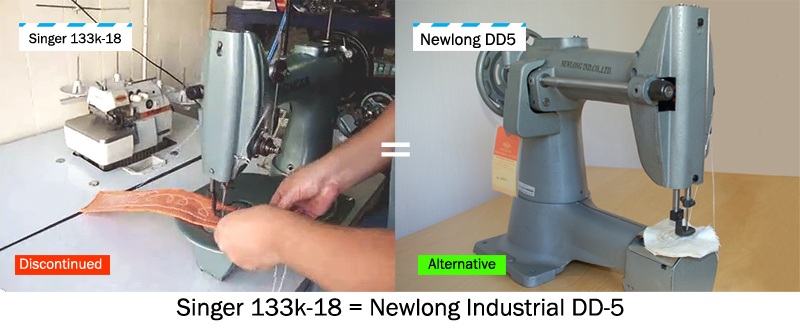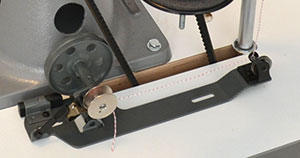 Use the Bobbin winder that comes with the machine to  fill the spools with thread. Install the  Bobbin winder against the v-belt of the machine and pre- create your spools. If you need to create more spools off-site for your production we advice more advanced winders such as motorised winders in combination with this or other bobbin winders.
Newlong Industrial  Sewing Machine
Made in Japan
Equivalent Seiko SK-8, Singer 132K, 133K-18